Corvette Automotive Repair, Collision/Refinishing and Restoration Shop in Southern IN
Immerse yourself in the world of Corvettes at CorvetteRestoration.Com. We are a complete Corvette Automotive repair, Collision/ Refinishing and Restoration shop known worldwide for repairing and restoring classic Corvettes. From the first model introduced back in 1953 to the popular versions produced during the 1970s, we have restored countless classic Corvettes and have enjoyed every minute of it.
Check out our galleries for a closer look at some of the models we have restored over the years. We have restored Corvettes for owners from 40 different states, as well as from countries all over the world, including Singapore and Taiwan. We are currently working on our 91st total body-off restoration.
Whether you are an admirer of one of America's most beloved cars or an owner and want to have your vehicle restored, we have you covered. Our website features a wealth of information about Corvettes dating from 1953 to 1975, and we offer body-off restorations that are guaranteed to be the most detailed anywhere and are built with pride.
Contact us by phone or email if you have any questions or if you would like to schedule a pickup at the airport to tour our facility.
Parts For Sale
Here at Corvette Restoration we have a very large selection of Corvette parts. Our parts range from N.O.S, Survivor, Used, restorable and salvage parts. If you are looking for something inparticular please use the contact form located at the bottom of the page and direct you request to Kassie as she will be the main point of contact for all part sales!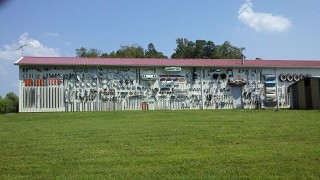 Please bare with us as there is obviously a lot to sort through as we begin to categorize and list parts. We will update the following FaceBook photo album as best we can with parts for sale.
https://www.facebook.com/pg/CorvetteRestoration5382/photos/?tab=album&album_id=2472795956304681